How can I get there
How Can I Get to SNIEC?
Shanghai New International Expo Centre (SNIEC) is located in Pudong New Area of Shanghai and easily accessible using many means of transport. Visitors can take metro line 7 and get off at HuaMu Road Station. Exit 2 of HuaMu Road Station is close to Hall W5 of SNIEC.
If you would like to take metro line 2 and get off at Long YangRoad Station, but it takes you about 10 minutes walking to SNIEC.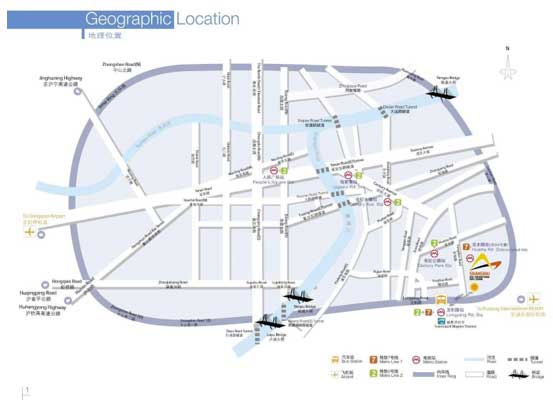 Shanghai Metro

Shanghai has an extensive public transport system, largely based on buses, taxis, and a rapidly expanding metro system. All of these public transport tools can be accessed using the Shanghai Public Transportation Card. The Shanghai Metro rapid-transit system and elevated light rail has 16 lines (numbers 1, 2, 3, 4, 5, 6, 7, 8, 9, 10, 11, 12, 13, 16, 17 and pujiang) at present and extends to every core urban district as well as neighbouring suburban districts such as Songjiang and Jiading. It is one of the fastest-growing systems in the world - the first line opened in just 1995.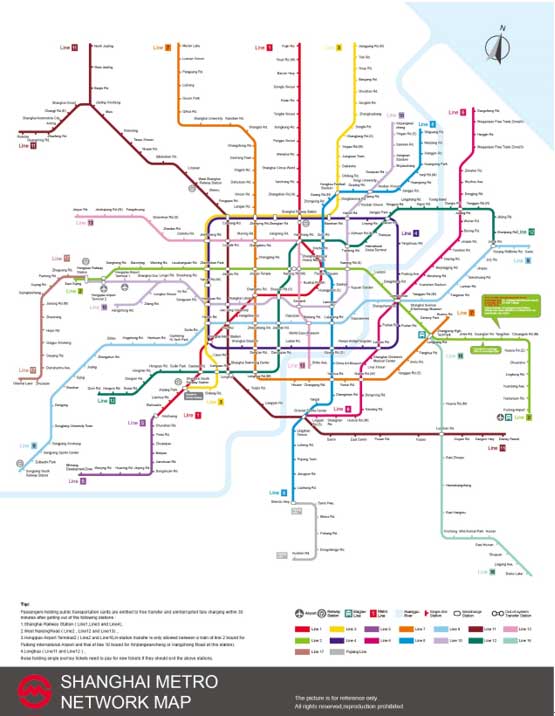 thousand bus lines, operated by numerous transportation companies. Not all of Shanghai's bus routes are numbered - some have names exclusively in Chinese. Bus fares are usually ¥1, ¥1.5 or ¥2, sometimes higher, while Metro fares run from ¥3 to ¥9 depending on distance.
Shanghai Maglev Train
In cooperation with the Shanghai Municipality and the Shanghai Maglev Transportation Development Co. (SMT), German Transrapid constructed the first commercial Maglev railway in the world in 2002, from Shanghai's Longyang Road subway station in Pudong to Pudong International Airport. Commercial operation started in 2003. The 30 km trip takes 7 minutes and 21 seconds and reaches a maximum speed of 431 km/h (267.8 mph). Normal operating speeds usually reach 431km/h, but during a test run, the Maglev has been shown to reach a top speed of 501km/h.
Longyang Road Station: First train: 06:45, Last train: 21:30
Pudong Airport Station: First train: 07:02, Last train: 21:32
Interval:
06:45-17:00 —— 15 mins
17:00-21:00 —— 20 mins
21:00-21:30 —— 30 mins
Fare:
Single trip ticket: 50yuan, Round trip ticket (of the same day): 80yuan
VIP Single trip ticket: 100yuan, VIP round ticket (of the same day): 160yuan
Tel: +86 21 28907777
Fax: +86 21 28907646
Shanghai Taxis

Taxis in Shanghai are plentiful and market competition has driven taxi fare down to affordable prices for the average resident (¥14〈 ¥18 after 11pm 〉for the first 3 kilometers).
Taking a taxi is a fast and convenient way to get around Shanghai. The city, has the best-managed taxi service in China.
Most cabbies know their way around and expertly negotiate the city's busy traffic. Taxis are usually readily available, but hailing one in rush hours is difficult and on rainy days almost impossible.
Shanghai's taxis are colorful, unlike New York City's, which are all yellow. Cyan, yellow, white, green, blue, red, dark blue and dark red are the main colors of the taxis in Shanghai and the colors denote different taxi companies. Dark blue and dark red are the colors for the city's hundreds of small and medium taxi companies.
Real taxis have a logo light on the top of the car. Around the driver's seat is a transparent shield protect the driver from robbery. A meter and an illuminated vacancy disk on the dashboard are also necessities for a cab. Without all these things, the taxi is probably unlicensed and you should avoid it, even if the driver solicits you. You have no rights if injured in an unlicensed taxi.
The vacancy disk will help you know which cab is available. When the disk is upright and illuminated showing two Chinese characters -- 空车 -- it means the cab is vacant.
Shanghai Taxi Fare



0~3 KM

3~15 KM

Above 15 KM

Daytime: (5:00~23:00)

RMB 14

RMB 16
(Touran Taxi)

RMB 2.5 / KM

RMB 3.75 / KM

Night: (23:00~5:00)

RMB 18

RMB 21
(Touran Taxi)

RMB 3.3 / KM

RMB 5 / KM

*5 minutes waiting equals to one kilometer in charging
Shanghai TaxI-Booking Call
Most taxis in Shanghai are Santana cars. In this market, Dazhong Taxi Company (with turquoise cars), Qiangsheng Taxi Company (with yellow cars), Jinjiang Taxi Company (with white cars), Ba-Shi Taxi Company (with Green cars) and Nong Gong Shang Taxi Company (with blue cars) are the main taxi companies.
Besides flagging down a cab on the street, you can also book a car by phone. There is no service fee for phone bookings except Dazhong company, which charges 4 yuan for each telephone or online reservation. The taxi hotline is, 96965 and English is available.
Shanghai Taxi Dispatch Information Service Center Hotline: 96965
Main Taxi Corp.

Taxi Booking Call

Complaints Call

Qiangsheng

+86 21 62580000

+86 21 62581234

Dazhong

+86 21 96822

+86 21 62580780

Jinjiang

+86 21 96961

+86 21 64169292

Ba-Shi

+86 21 96840

800-820-84000
+86 21 64312788
How to read a taxi receipt ?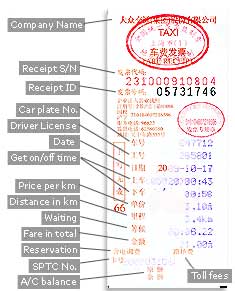 Tips
● As mentioned, you may find cabs scarce in rush hours and on rainy days. Taxi call centers will also become too busy to reach in these situations. Your best bet is probably to head for places taxis haunt, such as restaurants. Although taxis don't often park outside restaurants, many people go there by taxi. If you are quick enough, you can jump in as other passengers get out.
● Don't try to hail a cab at a crossroads, as taxi drivers cannot stop their cars within 30 meters from an intersection to pick up passengers.
● Cabbies in Shanghai are also not allowed to take a tip. Most of them are amicable, but their English is limited. So it's best to get spmeone to write down your destination in Chinese.
● Remember to take the receipt. The slip will contain information on the taxi, including its plate number and the taxi company. In case you leave something in the car, the receipt will give you clues to find it.
● "Juzai" is not a technical term, but the Chinese phrase is only used in the taxi industry. It means cabbies refuse to drive passengers to the destination they want. In Shanghai , taxi drivers are not allowed to do so for any reason, once the passenger is in the car. Although "juzai" rarely happens nowadays, we think you'd better know something about this.
● In case you come across a "juzai" or some other unhappy experience with a taxi, you can complain to the local taxi authority by dialing 962000.
● All the city's taxis are compatible with the Public Transportation Card. If a driver refuses to accept the card, you have the right to decline payment.

Shanghai attracts a large contingent of free and independent travelers. While some prefer to get around by subway, others prefer to do so by a rented car for a true authentic taste of the international metropolis. Car rental companies have their locations at airports and railway stations and in downtown area. ID and driver's license are required. There are various types of car available for rental.
AVIS
Tel: 400-882-1119
Website: www.avischina.com/City/Shanghai/
CAR
Tel: 400-616-6666
Website: www.zuche.com
eHai
Tel: 400-888-6608
Website: www.1hai.cn