Exhibition News
The Notice of Postponement for SMEE&SMC 2020

Date: 2020-4-30 15:28:25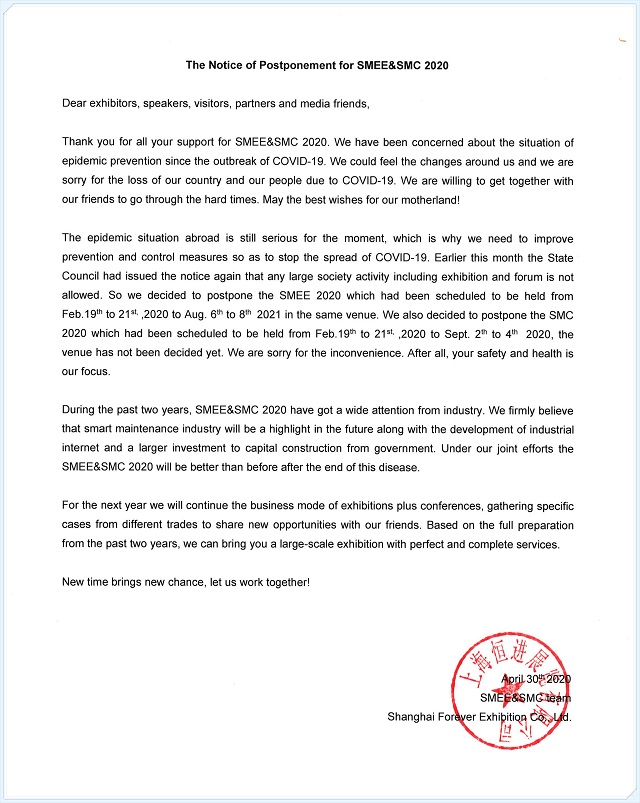 The Notice of Postponement for SMEE&SMC 2020
Dear exhibitors, speakers, visitors, partners and media friends,
Thank you for all your support for SMEE&SMC 2020. We have been concerned about the situation of epidemic prevention since the outbreak of COVID-19. We could feel the changes around us and we are sorry for the loss of our country and our people due to COVID-19. We are willing to get together with our friends to go through the hard times. May the best wishes for our motherland!
The epidemic situation abroad is still serious for the moment, which is why we need to improve prevention and control measures so as to stop the spread of COVID-19. Earlier this month the State Council had issued the notice again that any large society activity including exhibition and forum is not allowed. So we decided to postpone the SMEE 2020 which had been scheduled to be held from Feb. 19th to 21st, 2020 to Aug. 6th to 8th 2021 in the same venue. We also decided to postpone the SMC 2020 which had been scheduled to be held from Feb. 19th to 21st, 2020 to Sept. 2th to 4th 2020, the venue has not been decided yet. We are sorry for the inconvenience. After all, your safety and health is our focus.
During the past two years, SMEE&SMC 2020 have got a wide attention from industry. We firmly believe that smart maintenance industry will be a highlight in the future along with the development of industrial internet and a larger investment to capital construction from government. Under our joint efforts the SMEE&SMC 2020 will be better than before after the end of this disease.
For the next year we will continue the business mode of exhibitions plus conferences, gathering specific cases from different trades to share new opportunities with our friends. Based on the full preparation from the past two years, we can bring you a large-scale exhibition with perfect and complete services.
New time brings new chance, let us work together!
April 30th 2020
SMEE&SMC team
Shanghai Forever Exhibition Co., Ltd.
---
Contact us
Tel:86-21-64681300
Email:SMEE@for-expo.com